Our goals
Since its creation in 2014, Noyoco has always wanted to have a positive impact on the world
Noyoco comes from No Youth Control: A call to release energies, innovation, exploration, activism.
Instill the idea that by being a free spirit we can change the status quo.
Youth has no age, neither does audacity.
Broadcast

a positive and humanist vision of the world, an unfailing optimism

Create

products that allow you to consume better, without destroying the environment

Innovate

Smart and ambitious, noyoco strives to test, design and develop concrete and positive alternatives
Our values
A positive view of the world and an aesthetic lifestyle to feel good everywhere and to take a step in the right direction
Exploration

Open the way to others, discover new tools to adapt to your environment, initiate and take risks

Idealism

Who has the will not to conform

Audacity

Act to defend one's convictions, spread an ideology

Harmony

Oppose the superfluous, go to the essence of things
eco friendly fabrics
They are selected for their durability, their impact on the environment, and you will not find them anywhere else
Steps
Upcycling
With 140 billion garments produced per year, you can imagine that there are a few rolls that get lost in nature. We are here to bring them home.
Since 2017, we have built an upcycling chain that allows us to put high quality natural materials called "deadstock" back into circulation. They come mainly from Italy, from big houses that no longer use them. They come from production surpluses, designer cancellations, end of stocks...
Result: no additional material created. Less fertilizers, pesticides, less water consumed, CO2 emitted, and less waste on Earth. But nothing, it's natural.
The upcycling of deadstock materials represents between 50 and 70% of our clothes depending on the season. And it's probably the best thing we've done for the planet.
Materials
low-impact
The rest of our materials come from our favorite weavers, mainly in Italy and Portugal.
We call them low-impacts. Because it's true, and also because it sounds good.
They are natural and have an ecological balance well above 95% of the materials used in the world. Linen, hemp, lyocell, virgin wool, organic cotton... they have their own characteristics and consume fewer natural resources, emit less CO2, do not require pesticides, do not release chemicals into the environment, are recyclable and biodegradable. They save the world.
A beautiful business card.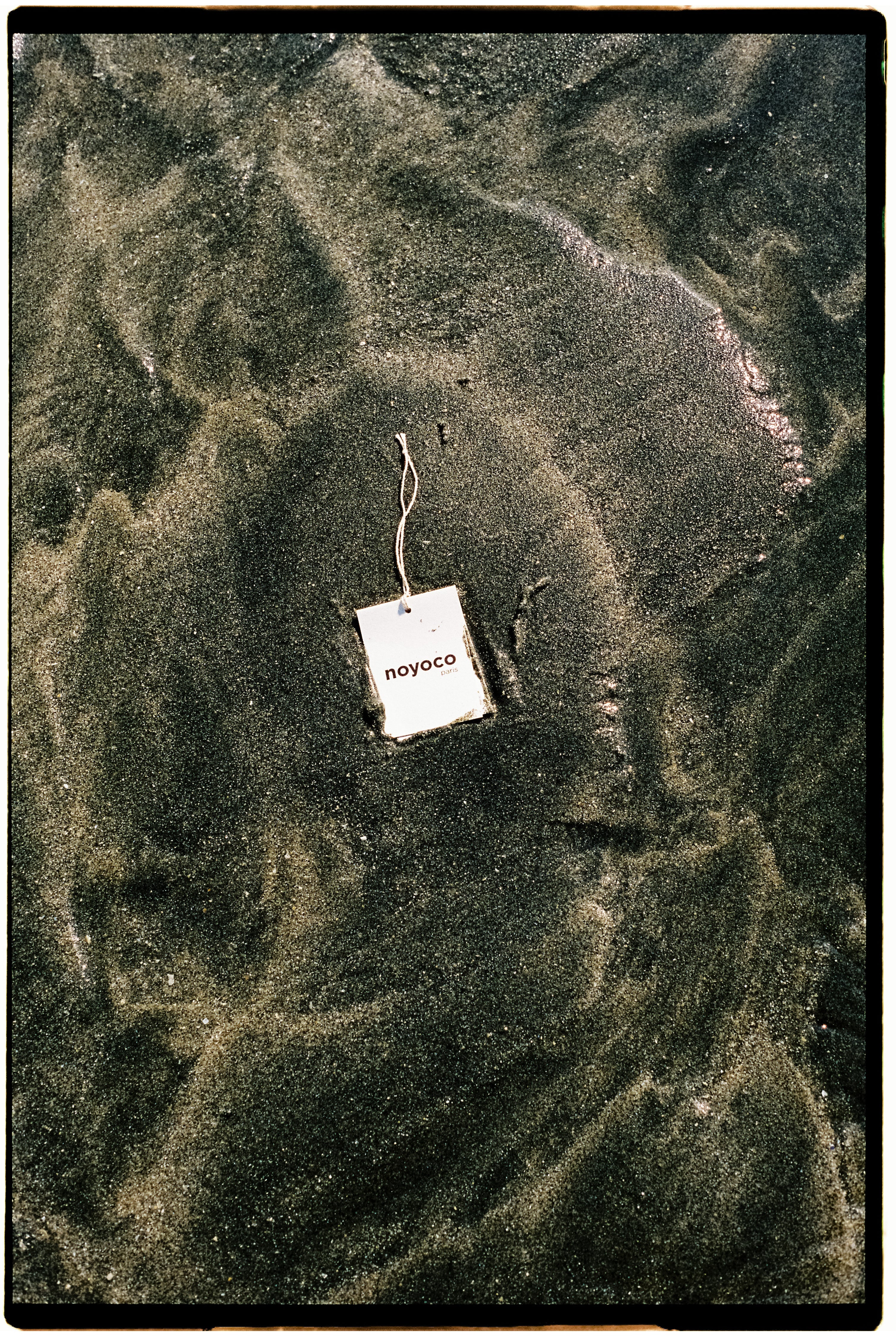 But also
Biodegradable
When you machine wash a garment made of synthetic material (polyester, polyamide, nylon, etc.), it releases hundreds of thousands of micro plastic particles, too small to be stopped by the filter.
They flow with wastewater into the oceans.
The fish end up gobbling them up, and we gobble up the fish. Go vegan?
These synthetic fibers represent 65% of the fibers used in the world.
Green Peace calculated in 2014 that this represented the equivalent of 50 billion plastic bottles in the oceans. Devastating.
This is why you will only find biodegradable fibers at noyoco. And it's non-negotiable.
Made in Europe
We carefully choose our production partners, taking into account their know-how and their commitments.
100% of our manufacturers are in Europe.
The majority of our clothing manufacturing is in Romania. We have partnered with several assembly workshops for our parts and have sent a team on site to ensure quality control and to visit the workshops regularly.
We pride ourselves on being transparent about our suppliers so you can find out who's behind our clothes.
Act together
We have joined the En mode Climat movement, a coalition of companies initiated by Loom , an eco-responsible brand with which we have linked up around our common mission: to change the world of fashion.
The principle is simple, to change the laws and for the textile industry to really fight against climate change, we must join forces and put pressure on the authorities. noyoco is proud to be one of the 300 brands to have joined the project.

Philosophy in climate mode: "Alone we are powerless, together our voice cannot be ignored."
To make things happen!
To follow the project and its progress, you can find the movement on Instagram . We will also relay the main stages of the project on our Instagram page . We can't wait to finally move the lines for the better!